Jefferson Hagen
MacEwan Athletics
EDMONTON – Teammates with Trevor Zegras and facing the likes of Alex Newhook and Matt Boldy, Ashton Abel made 35 saves, out-duelling current Florida Panthers goaltender Spencer Knight to lift Boston University past Boston College 5-4 in the semifinal of the prestigious 2020 Beanpot tournament.
"It was pretty cool," said the now MacEwan Griffins goaltender who also played in the final against Northeastern. "There was something like 15,000 people in TD Garden, so being able to play in front of a crowd like that was a pretty cool experience that I'll never forget, for sure."
Given whom he's faced over a three-year career with the Terriers, it's a bit of a coup that the Griffins currently have Abel minding the twine for them in their second season in the U SPORTS men's hockey ranks.
He will lead MacEwan (5-5-0) into a home weekend series vs. Saskatchewan (7-1-1) on Friday (7 p.m.) and Saturday (3 p.m., both Downtown Community Arena, Canada West TV).
Not surprisingly, Abel's made a big difference for a Griffins team that's currently occupying a playoff spot in the highly competitive Canada West conference.
"I think I've had a lot of fun," said the Fort McMurray, Alta. native. "It's been really nice getting back in the net. For me coming in being able to play and help the program to win games has been a lot of fun so far and I look forward to keeping going."
After a solid Alberta Junior Hockey League career with the Calgary Mustangs and Okotoks Oilers, Abel joined Boston University late in the 2019-20 season and got nine starts, posting respectable numbers that figured to earn him at least a share of the playing time.
Except that it didn't.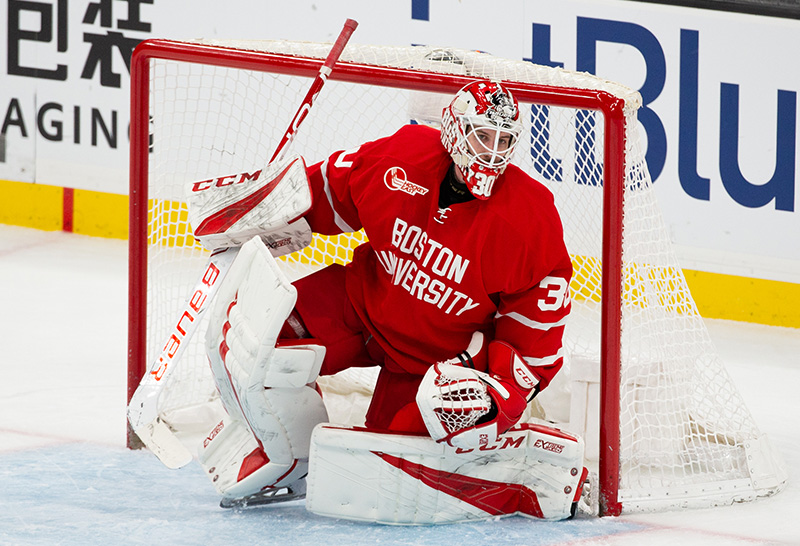 Ashton Abel competes in the prestigious 2020 Beanpot Tournament for Boston University, helping them get to the final (Rich Gagnon, BU Athletics).
"I went in halfway through the year in my first year and I played quite a bit," he said. "I had a decent year and then my second and third year I didn't get a chance to get in the net at all. I only played one regular season game.
"Coming back home, I was trying to find somewhere I could get back playing and starting to enjoy coming to the rink a little more."
So, he jumped at the chance to join the Griffins, following a similar path that goaltender Ty Taylor did a year ago when he returned to Canada after three seasons at the University of New Hampshire.
"I think any time you have a new program, you want to grab guys who have experience playing at that level (NCAA) and it's just happened to work out for us where we've been able to bring two guys in who've already played university hockey," said Griffins interim head coach Zack Dailey. "We've gotten a little bit lucky that way, but it was a good fit for both guys where they're looking to play a little bit more than they've played at their (NCAA) schools and we had opportunities for them to do so."
So far, Abel has a 3.74 goals against average and .891 save percentage in starting nine of MacEwan's 10 games so far, but it's been his big game performances that have really stood out. He backstopped the Griffins to upset wins over U SPORTS No. 1 Alberta on Oct. 7 (a 4-3 OT win in which he stopped 48 of 51 shots), No. 8 Mount Royal on Oct. 22 (a 3-2 OT win with 28 saves) and perennial powerhouse UBC on Oct. 29 (a 3-2 OT win with 44 saves).
"It's definitely big, for sure, especially as a newer program in the league," said Abel. "Early on, winning our first game of the year (a 7-5 win over Regina), I think that put some confidence in the guys that we can compete in this league. Definitely, the next one against U of A, it obviously shows we can compete against anybody (in U SPORTS).
"We're never going to be an easy win or an easy team to play against. I think that's built a lot of confidence in our guys and I think we'll only get better throughout the season."
Ashton Abel makes one of his 44 saves during a 3-2 overtime win over UBC on Oct. 29 (Bob Frid photo).
Abel's even-keel demeanour sets the tone for the entire team, which is free to play with confidence.
"Calmness is probably the best way to describe him," said Dailey. "He's never too emotional either way. He just comes to practice every day and does his job. I think it helps our guys to be able to relax and play. They know that we have a person who is giving us a chance to win and is there to make the saves when we need them.
"I think his calming presence has a big effect on the whole team."
He grew up a huge fan of Carey Price, a goaltender who has modelled a calm, level approach in the net at the highest level.
"I think that's kind of always how I've tried to play," said Abel. "I think it's an important quality in a goalie – not to get too high, not to get too low.
"I'm just going out there and trying to stop every puck I can. If one goes in, you have to forget about it. You have to have a quick memory and just get back at it."
Ashton Abel will lead the Griffins into a home weekend series vs. Saskatchewan on Friday at 7 p.m. and Saturday at 3 p.m., both Downtown Community Arena (Bob Frid photo).
The Griffins are trying to turn the page quickly on a tough week where due to a West Jet service outage that cancelled hundreds of flights, some of the team didn't return to Edmonton from their Trinity Western road trip until Wednesday.
"That's something we've talked about a lot – handling adversity and how you respond to it," said Dailey. "I think this week has been tough, but at the same time no other teams feel sorry for us or are going to take it easy on us.
"We need to be focused and get ready for the task at hand, which is a very tough one. We're playing a very good team this weekend, but my expectation for the guys is they come ready to go – they're skating hard and competing hard like they have all season. If we do that, we always have a chance."