Jefferson Hagen
MacEwan Athletics
EDMONTON – It was nearly a year ago when the Griffins women's soccer team was dealt a humbling 3-0 defeat at the hands of the Calgary Dinos in their second game of the 2021 Canada West regular season.
We all know how the movie eventually played out as the Griffins learned from it, beating the Dinos on the final day of the regular season to clinch the division before rolling on to a historic U SPORTS Championship victory.
They can only hope what happened on Sunday similarly galvanizes and teaches. A stunning 5-2 loss to cross-town rival Alberta at Foote Field will offer plenty of lessons in the coming days.
"We have to learn from these moments," said head coach Dean Cordeiro. "It's hard to be perfect. There's going to be ups and downs. It's a similar set of circumstances when we had a little setback versus Calgary. It was a good learning moment for us. It woke us up.
"I think this is going to be the same case after today's match."
Backed by a raucous crowd for their home opener, the Pandas came out in a 3-5-2 formation, frustrating MacEwan's offence before jumping on the Griffins early. Cara Lang scored seven minutes into the contest.
"It wasn't the start we had hoped to have," said Cordeiro. "Whoever scores a goal early in a match like that can kind of set the tone. Unfortunately, they beat us to it, scoring in the seventh minute. It kind of kick-started things for them.
"I thought we woke up after that and we were OK for the next 20-25 minutes. But they got their second and it really gave them some momentum."
Did it ever. When McKayla Brault beat Griffins goalkeeper Breanna Truscott 35 minutes into the contest, the floodgates opened. Goals by Adrienne Poulin and Kelli Haffie followed for three tallies in eight minutes and a 4-0 first half deficit that ranks among the most uncharacteristic pitfalls to befall them in program history.
"We haven't seen that many goals (against) in a very long time, let alone a half," said Cordeiro, whose teams have long been known for being among the stingiest in Canada West. "That's half a year amount of goals in one game."
Goalkeeper Bianca Castillo came on for the Griffins at half-time, among a few substitutions as MacEwan tried to go against the wind in a furious comeback attempt.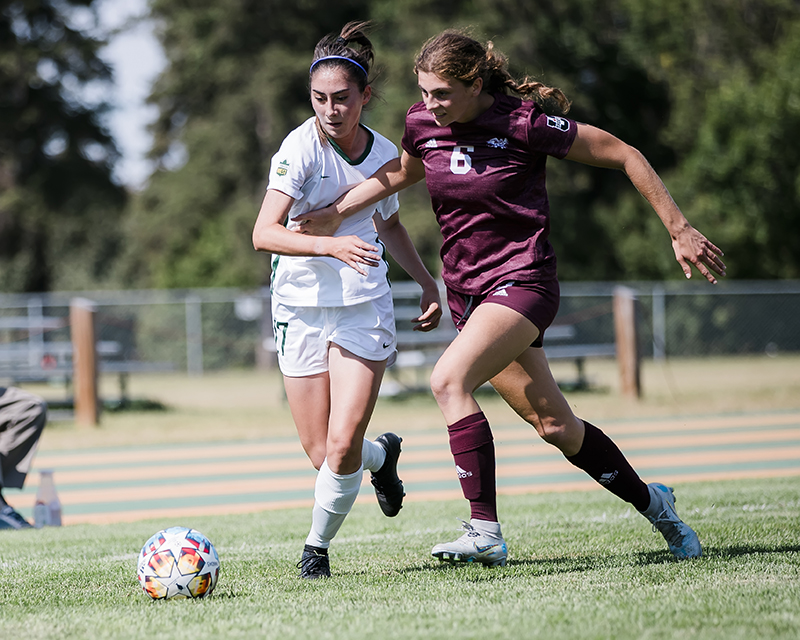 MacEwan's Amelia Russo battles for a loose ball against an Alberta defender (Don Voaklander photo).
Grace Mwasalla was taken down in the box 10 minutes into the second half and Erin Van Dolder made no mistake on the penalty kick for her third goal in the past two games.
Mwasalla, who was named game MVP for the Griffins, then drew the visitors closer with a goal of her own six minutes later.
Unfortunately, the wind went out of their sails when Brooke Lang gave the Pandas a 5-2 lead in the 67thminute on a wind-aided tally that fooled Castillo.
"The one thing we do know is there's no easy games," summed up Cordeiro. "I know we had an undefeated preseason and won our home opener, but you're not going to win every game you play, so that's the message here.
"We had a couple of these moments last year and it really paved the way to take that next step. We're confident the group will learn from this, and we'll be better for it."
Next up for the Griffins is a visit to Victoria on Sept. 9 (6 p.m. MT, Canada West TV) and UBC on Sept. 10 (6 p.m. MT, Canada West TV).