11
| | |
| --- | --- |
| Height: | 5-8 |
| Year: | 4 |
| Hometown: | Edmonton |
| High School: | Bellerose Composite |
| Position: | Forward |
| Major: | Arts |
Three Stars: Named to the MacEwan Athletics' three stars list once during the 2017-18 season (2nd - Nov. 7).
Record Book: Tied for sixth in program history for most game-winning goals in a season with three in 2019-20.
Notable: Previously played for the Edmonton Midget AAA Pandas, Midget AAA Thunder and Bantam AAA Lightning ... Won a provincial championship with AAA Thunder ... Went to Esso Cup as a rookie ... Career goal is social work ... Older brother Jason played NCAA Div. 3 at College St. Scholastica (2003-06) ... Brothers Ryan and Jordan played in the Manitoba Junior Hockey League and Jordan also played in the Maritime Junior Hockey League (MJAHL) ... Younger brother Brendan previously played in the MJAHL and is currently playing in Thunder Bay (Superior International Junior Hockey League).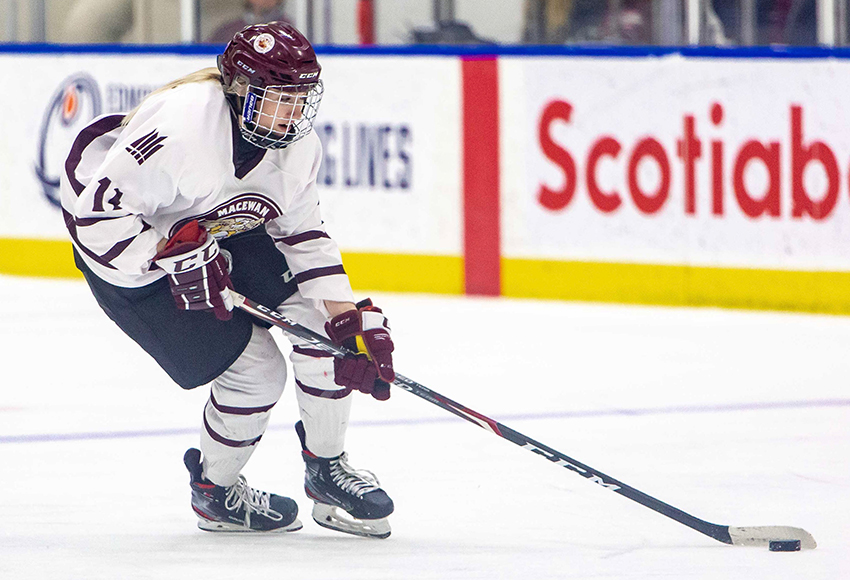 Joel Kingston photo
Recent Games
Feb 4
at Saskatchewan
L, 4-1
Feb 5
at Saskatchewan
L, 4-1
Feb 11
Alberta
L, 2-1
Feb 12
at Alberta
L, 4-0
Feb 18
at Mount Royal University
L, 4-1
Feb 19
at Mount Royal University
L, 2-1
| Statistics category | Overall | Conf |
| --- | --- | --- |
| Games | 19 | 19 |
| Points | 3 | 3 |
| Goals | 2 | 2 |
| Assists | 1 | 1 |
| PIM | 22 | 22 |
| +/- | -5 | -5 |
| Power-play goals | 0 | 0 |
| Short-handed goals | 0 | 0 |
| Empty net goals | 0 | 0 |
| Games started | - | - |
| Game-winning goals | 0 | 0 |
| Game-tying goals | 0 | 0 |
| Hat tricks | 0 | 0 |
| Shots | 31 | 31 |
| Date | Opponent | Score | gs | g | a | pts | pim | +/- | ppg | shg | eng | gwg | gtg | s |
| --- | --- | --- | --- | --- | --- | --- | --- | --- | --- | --- | --- | --- | --- | --- |
| Sep 11 | at Alberta | L, 2-1 | - | 0 | 0 | 0 | 0 | -2 | 0 | 0 | 0 | 0 | 0 | 1 |
| Sep 17 | Alberta | L, 2-0 | - | 0 | 0 | 0 | 0 | +0 | 0 | 0 | 0 | 0 | 0 | 0 |
| Sep 18 | Calgary | L, 5-4 | - | 0 | 1 | 1 | 0 | +1 | 0 | 0 | 0 | 0 | 0 | 2 |
| Sep 24 | at Saskatchewan | L, 5-3 | - | - | - | - | - | - | - | - | - | - | - | - |
| Sep 25 | vs. Regina | L, 3-1 | - | - | - | - | - | - | - | - | - | - | - | - |
| Oct 2 | vs. Saskatchewan | L, 3-1 | - | - | - | - | - | - | - | - | - | - | - | - |
| Oct 8 | at Mount Royal University | L, 4-1 | - | - | - | - | - | - | - | - | - | - | - | - |
| Oct 15 | Regina | L, 2-1 | - | 0 | 0 | 0 | 0 | -1 | 0 | 0 | 0 | 0 | 0 | 1 |
| Oct 16 | Regina | W, 2-1 | - | 0 | 0 | 0 | 0 | -1 | 0 | 0 | 0 | 0 | 0 | 1 |
| Oct 22 | at Calgary | L, 3-1 | - | 1 | 0 | 1 | 4 | -1 | 0 | 0 | 0 | 0 | 0 | 2 |
| Oct 23 | at Calgary | L, 3-1 | - | 0 | 0 | 0 | 2 | +0 | 0 | 0 | 0 | 0 | 0 | 2 |
| Oct 29 | UBC | L, 5-0 | - | 0 | 0 | 0 | 2 | -2 | 0 | 0 | 0 | 0 | 0 | 0 |
| Oct 30 | UBC | W, 3-2 | - | 0 | 0 | 0 | 0 | +1 | 0 | 0 | 0 | 0 | 0 | 1 |
| Nov 5 | Mount Royal University | L, 3-0 | - | - | - | - | - | - | - | - | - | - | - | - |
| Nov 6 | Calgary | W, 4-3 | - | 0 | 0 | 0 | 0 | +0 | 0 | 0 | 0 | 0 | 0 | 2 |
| Nov 26 | at Trinity Western | W, 2-0 | - | 0 | 0 | 0 | 0 | +0 | 0 | 0 | 0 | 0 | 0 | 3 |
| Nov 27 | at Trinity Western | W, 1-0 | - | 0 | 0 | 0 | 2 | +0 | 0 | 0 | 0 | 0 | 0 | 2 |
| Dec 3 | at Alberta | L, 4-0 | - | 0 | 0 | 0 | 0 | -1 | 0 | 0 | 0 | 0 | 0 | 1 |
| Dec 4 | Alberta | L, 6-1 | - | 0 | 1 | 1 | 2 | +0 | 0 | 0 | 0 | 0 | 0 | 2 |
| Jan 14 | Manitoba | L, 3-0 | - | 0 | 0 | 0 | 0 | +0 | 0 | 0 | 0 | 0 | 0 | 2 |
| Jan 15 | Manitoba | W, 2-1 | - | 0 | 0 | 0 | 4 | +1 | 0 | 0 | 0 | 0 | 0 | 1 |
| Feb 4 | at Saskatchewan | L, 4-1 | - | 0 | 0 | 0 | 4 | +0 | 0 | 0 | 0 | 0 | 0 | 1 |
| Feb 5 | at Saskatchewan | L, 4-1 | - | 0 | 0 | 0 | 0 | -1 | 0 | 0 | 0 | 0 | 0 | 2 |
| Feb 11 | Alberta | L, 2-1 | - | 0 | 0 | 0 | 0 | +1 | 0 | 0 | 0 | 0 | 0 | 2 |
| Feb 12 | at Alberta | L, 4-0 | - | 0 | 0 | 0 | 0 | -2 | 0 | 0 | 0 | 0 | 0 | 0 |
| Feb 18 | at Mount Royal University | L, 4-1 | - | 0 | 0 | 0 | 2 | +0 | 0 | 0 | 0 | 0 | 0 | 2 |
| Feb 19 | at Mount Royal University | L, 2-1 | - | 1 | 0 | 1 | 0 | +1 | 0 | 0 | 0 | 0 | 0 | 4 |
| | gp | g | a | pts | pim | +/- | ppg | shg | eng | gwg | gtg | hat | s |
| --- | --- | --- | --- | --- | --- | --- | --- | --- | --- | --- | --- | --- | --- |
| 2017-18 | 23 | 9 | 1 | 10 | 22 | +0 | 2 | 0 | 0 | 0 | 0 | 0 | 15 |
| 2018-19 | 24 | 3 | 2 | 5 | 18 | +0 | 1 | 0 | 0 | 3 | 0 | 0 | 9 |
| 2019-20 | 24 | 8 | 8 | 16 | 14 | +0 | 3 | 1 | 0 | 0 | 0 | 0 | 6 |
| 2020-21 | - | - | - | 0 | - | - | - | - | - | - | - | - | - |
| 2021-22 | 19 | 2 | 1 | 3 | 22 | -5 | 0 | 0 | 0 | 0 | 0 | 0 | 31 |
| 2022-23 | 11 | 2 | 0 | 2 | 23 | -2 | 1 | 0 | 0 | 1 | 0 | 0 | 20 |
| Total | 101 | 24 | 12 | 36 | 99 | -7 | 7 | 1 | 0 | 4 | 0 | 0 | 81 |
gp
g
a
pts
pim
+/-
ppg
shg
eng
gwg
gtg
hat
s
Total
19
2
1
3
22
-5
0
0
0
0
0
0
31
Conference
19
2
1
3
22
-5
0
0
0
0
0
0
31
Exhibition
3
0
1
1
0
-1
0
0
0
0
0
0
3

-

Home
9
0
1
1
8
-1
0
0
0
0
0
0
12
Away
10
2
0
2
14
-4
0
0
0
0
0
0
19
Neutral
-
-
-
0
-
-
-
-
-
-
-
-
-

-

Wins
6
0
0
0
6
+1
0
0
0
0
0
0
10
Losses
13
2
1
3
16
-6
0
0
0
0
0
0
21
Ties
-
-
-
0
-
-
-
-
-
-
-
-
-

-

October
6
1
0
1
8
-4
0
0
0
0
0
0
7
November
3
0
0
0
2
+0
0
0
0
0
0
0
7
December
2
0
1
1
2
-1
0
0
0
0
0
0
3
January
2
0
0
0
4
+1
0
0
0
0
0
0
3
February
6
1
0
1
6
-1
0
0
0
0
0
0
11