MacEwan Athletics
EDMONTON – Men's hockey student-athlete Zach Webb is the MacEwan Athletics' first star of the week after his performances in leading the Griffins to a weekend sweep over the Portage College Voyageurs.
Webb recorded a goal and five assists in two blowout wins for the Griffins – including a five-point outing in Saturday's 8-0 victory in Lac La Biche.
Other athletes recognized this week include second star Max Vriend of the men's volleyball team and third star Haley Gilfillan of the women's volleyball team.
It's the first time this season all three of the student-athletes have made the MacEwan Athletics' three stars list.
1st STAR: Zach Webb, F, men's hockey
St. Albert, AB, first-year, Arts
MacEwan's offence exploded for 16 goals in a pair of lopsided wins over Portage College on the weekend and Webb was front and centre with six points.
The rookie forward had an assist in the Griffins' 8-1 win over the Voyageurs on Friday night at the Downtown Community Arena.
He then produced one of the top individual game stats lines this season with a five-point night during MacEwan's 8-0 win in the rematch in Lac La Biche, AB on Saturday. Webb had a goal and four assists as the Griffins won their sixth-straight to improve to 9-3-0-0 in the standings.
For the season, Webb is fifth on the Griffins with two goals and 12 points in 12 games.
He leads MacEwan into action against cross-town rival NAIT on Friday (7 p.m., NAIT Arena) and Saturday (6 p.m., Downtown Community Arena).
2nd STAR: Max Vriend, OH, men's volleyball
Barrhead, AB, fifth-year, Commerce
Although the principals in Friday's volleyball match in the David Atkinson Gym included reigning Canada West MVP Elliott Viles and second team all-star Seth Friesen of the U SPORTS No. 2-ranked Brandon Bobcats, the best player on the court that night was wearing Maroon and White.
Vriend was a one-man army for the Griffins, recording a match-high 16 kills – often into the teeth of triple blocks – on a .290 hitting percentage, adding an ace, a block and five digs in a 3-0 loss to the Bobcats. Considering Brandon figured out pretty quick the ball was coming his way and they still couldn't slow him down, it just highlights the quality of the performance.
After a night of game planning for him, the Bobcats were much more successful in Saturday's rematch, holding him to six kills (still a team high), one ace and two digs in a straight-sets victory.
For the season, Vriend is third in Canada West in both kills/set (3.70) and points/set (4.3), tied for eighth in kills (100) and is 10th in points (115.5).
The Griffins host Manitoba on Friday (7:30 p.m.) and Saturday (6:30 p.m., both David Atkinson Gym, Canada West TV presented by Co-op).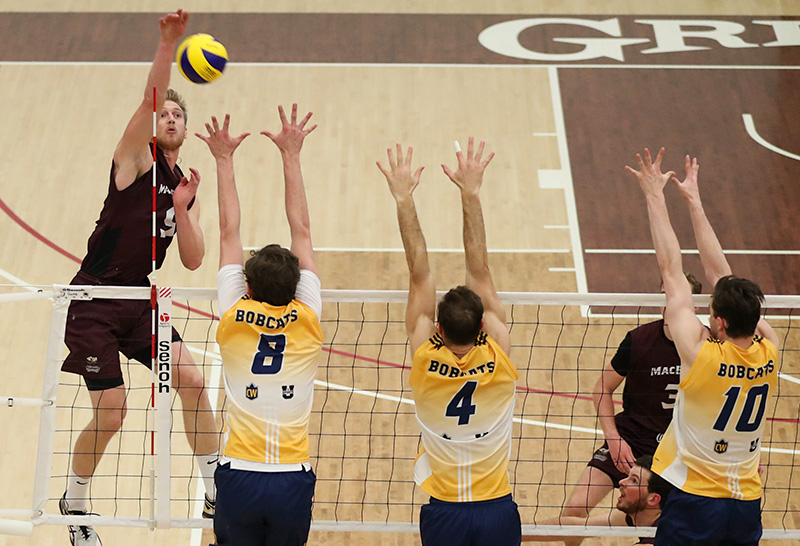 Max Vriend often faced triple blocks against Brandon last Friday, but he still produced a match-high 16 kills (Eduardo Perez photo).
3rd STAR: Haley Gilfillan, MB, women's volleyball
Edmonton, AB, fifth-year, Arts
MacEwan swept Brandon over the weekend with a balanced attack as four players tied for the team lead in kills on both nights.
Fifth-year middle Haley Gilfillan was one of those co-leaders each night, but her contributions across multiple statistical categories stood out.
In Friday's 3-0 win over the Bobcats, she had a co-team high eight kills on 15 attempts for a sizzling .533 percentage, with two aces, four blocks, two digs and a team-high 12.0 points.
In Saturday's 3-2 win over Brandon, she had a co-team high 9 kills on a .471 percentage, with six aces, five blocks, nine digs and 18.5 points.
For the season, Gilfillan is second in Canada West in aces/set (0.65), third in aces (22), fourth in blocks/set (1.21) and is tied for fifth in blocks (41).
She leads the Griffins against Manitoba on Friday (6 p.m.) and Saturday (5 p.m., both David Atkinson Gym, Canada West TV presented by Co-op).
Haley Gilfillan was a force in the middle for the Griffins on the weekend, leading them to a weekend sweep of the Brandon Bobcats (Eduardo Perez photo).