MacEwan Athletics
EDMONTON – Women's hockey student-athlete Rylee Gluska is the MacEwan Athletics' first star of the week after scoring twice during a weekend series against Mount Royal University.
Gluska was a big reason why the Griffins knocked off the U SPORTS No. 3 Cougars Saturday in Calgary, scoring MacEwan's first goal of the game in a 4-2 triumph.
Men's hockey goaltender Ashton Abel and men's soccer defender Cedric Nataroum are the second and third stars, respectively.
Both Gluska and Nataroume are making the list for the first time this season, while Abel makes his second appearance, having previously been named second star on Oct. 11.
1st STAR: Rylee Gluska, F, women's hockey
Neepawa, MB, third-year, Nursing
Needing offence after scoring just five goals in their first four games, the Griffins got it from the third-year forward, who was outstanding as the team earned a split with U SPORTS No. 3 Mount Royal University.
Gluska scored MacEwan's lone goal in Friday's 3-1 loss at the Downtown Community Arena.
She then opening the scoring for the Griffins in Saturday's 4-2 win in Calgary against the Cougars.
Gluska had three shots in the two games and finished +2.
The Neepawa, MB product has two goals in three games so far this season.
She'll lead the Griffins into home action vs. UBC on Friday (7 p.m.) and Saturday (4 p.m., both Downtown Community Arena, Canada West TV).
2nd STAR: Ashton Abel, G, men's hockey
Fort McMurray, AB, fourth-year, Commerce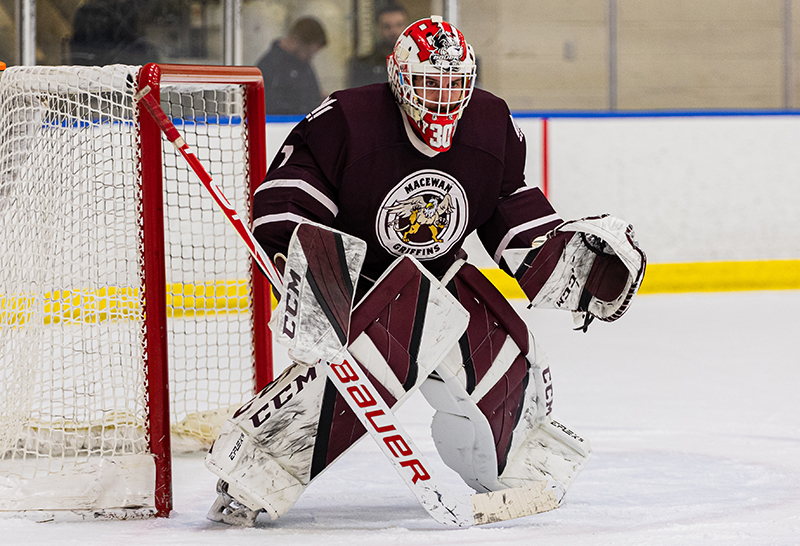 Ashton Abel made 56 saves in two games to help the Griffins to a weekend split vs. U SPORTS No. 9 Mount Royal University (Joel Kingston photo).
Staring down one of the top teams in the country, the Griffins managed to net a weekend split with the Mount Royal University Cougars, thanks in large part to their starting goaltender.
Abel was terrific in making 28 saves in a 3-2 double overtime win over the No. 9 Cougars on Saturday. He made several huge saves in the third period, most notably a quick reaction toe save on the doorstep off star MRU forward Nolan Yaremko.
Abel also stopped 28 of 32 shots against in Friday's 4-0 loss to MRU, in which MacEwan generated just 10 shots and spent much of the contest in their own end.
For the season, Abel has three wins in making 150 saves in five starts with a 3.81 goals against average and .893 save percentage.
He leads the Griffins (3-3-0) into a tough weekend road series in Vancouver this weekend at UBC (3-2-1).
3rd STAR: Cedric Nataroum, D, men's soccer
Edmonton, AB, first-year, Business Management
Along with playing great defence, centre-back Cedric Nataroum had two of MacEwan's best scoring chances in a 0-0 draw with Mount Royal University on Sunday (Rebecca Chelmick photo).
Needing to beat undefeated Mount Royal University on the final day of the Canada West regular season Sunday, the Griffins put forth a stellar effort, but fell short after a 0-0 tie.
They came as close to anyone has to beating the Cougars this season and Nataroum was a big reason why.
Along with stellar defending, the rookie centre-back had two of MacEwan's best chances to score in the contest – a 30th minute header that was stopped on the line and a 90th minute shot off a corner kick that barely stayed out.
The Griffins finished the season with a 3-7-4 record, tied for the final playoff position in the Prairie Division, but lost out to Saskatchewan for a post-season spot on a tiebreaker.