Jefferson Hagen
MacEwan Athletics
EDMONTON – Star goaltender Ty Taylor is the latest member of the MacEwan Griffins men's hockey program to turn pro.
The Tampa Bay Lightning draft pick, who was the backbone of a Griffins team competing in its inaugural Canada West season, has signed a professional tryout agreement with the Syracuse Crunch, the American Hockey League team announced Sunday.
Taylor had previously joined the East Coast Hockey League's Orlando Solar Bears late last month, seeing 25:46 of action in a Feb. 27 relief appearance where he stopped eight of nine shots.
Both teams are minor league affiliates of the Lightning, which selected Taylor in the seventh round of the 2018 NHL Entry Draft.
"In conversations he had with them after the season and him being done pretty much his entire degree between the two institutions – (the University of New Hampshire) and us – he was right on the cusp of making a decision," said Griffins head coach Mike Ringrose. "Ultimately, after talking to Tampa and his agent, he decided to forego his last year (of university eligibility) and sign a pro contract.
"It's a well-deserved opportunity for him. He's a guy that's committed to do the little things you need to do to be a successful pro. His preparation and the work he does off the ice is exceptional. And it showed this year. He was really able to get things back on track."
After not getting the opportunity he needed to prepare for the pro ranks during three seasons in the NCAA with New Hampshire, Taylor rebuilt his career with an important season at MacEwan.
Among the top goaltenders in Canada West in 2021-22, the Richmond, B.C. product consistently gave the Griffins a chance against more-established programs. He finished with a 4.16 goals against average and .890 save percentage with one shutout in 706:19 minutes of action – numbers which don't tell the whole story of how much he was under siege.
"Hopefully, as things move forward for him in his professional career, he can look back at his time at MacEwan as something that spring-boarded him back into a situation where he could pursue that (pro) dream," said Ringrose.
Taylor is the fourth member of the 2021-22 Griffins to land a pro deal, following Riley Brandt (Elite Ice Hockey League's Cardiff Devils), Ethan Price (ECHL's Worcester Railers) and Brett Magee (Southern Professional Hockey League's Evansville Thunderbolts).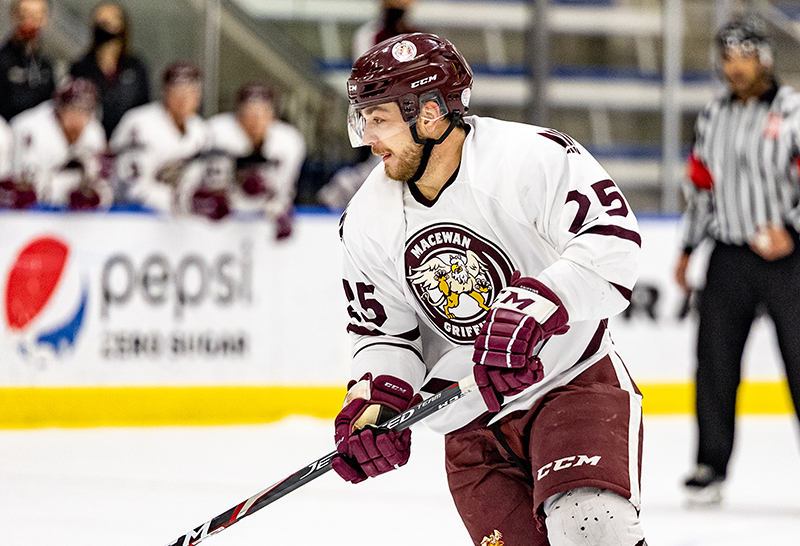 Riley Brandt is currently playing in England for the Cardiff Devils (Joel Kingston photo).
"We're happy our program is being seen as desirable to come to for guys that want to pursue that step to the next level," said Ringrose. "For us, our goal at the end of the day is to make sure that when guys leave MacEwan, they're well prepared academically with a degree and can step into the work force, and if they want to continue to pursue professional hockey, they've had the chance to develop their game and put the necessary pieces in place to do that.
"It's really something we're proud of as a program to have these guys move on to the next level."
Brandt made waves by winning the first Canada West men's hockey player of the week of the 2021-22 season and was among the best players in the conference when he decided to pursue his pro opportunity in England after the first semester.
"We've been keeping tabs on him a little bit," said Ringrose of Brandt, who has two goals and three points in 18 games so far for Cardiff. "He's filling an energy role over there and playing a physical brand of hockey like he does. By all accounts, he's a fan favourite.
"That was a really good opportunity that came up as a result of an injury that they had on their roster. Riley's the type of guy who will fit into any team situation. He's a really easy guy to get along with, he's a good teammate and in his time with us at MacEwan, he performed well on the ice.
"He's another example of a guy who needed to come in and get his game back on track after missing some time due to injury. He was able to do it and it opened some doors for him."
Ethan Price is now a member of the Worcester Railers in the ECHL (Joel Kingston photo).
Price left the Griffins for the ECHL in mid-January and has seen action in seven games so far without a point. He landed the deal when the pandemic opened up some spots on the Railers.
"Ethan's another guy who works exceptionally hard at his craft," said Ringrose. "Any time you put the time in and you're able to focus on your development, it's going to open up doors for you.
"It was unfortunate timing for us, but it was an opportunity he felt comfortable with because he knew someone in that organization," he added. "We were disappointed that he decided to leave in the middle of the season, but at the end of the day, it's another guy who had an opportunity to pursue professional hockey after working to develop their game in our program. That's what we want to do."
Brett Magee, left, seen receiving his senior picture from Griffins head coach Mike Ringrose, has landed a pro deal in the Southern Professional Hockey League (Joel Kingston photo).
Magee was actively pursuing a pro deal after graduating from the Griffins' program in February and landed one in Evansville, Ind. So far, he has played one game without a point and is a +1.
"Brett's another guy that works exceptional hard off the ice," said Ringrose. "He missed a large portion of (the season), but was still able to get things on track in the second half and push himself into a spot where he was able to pursue a pro opportunity.
"Again – and it's a theme here – he's another guy who really spends time focused on doing the little things right on a day-to-day basis to get his game where it needs to be to pursue that continuous improvement. He certainly did that.
"From the last time he stepped on the ice for us at the ACAC level to this year, he took a big jump and that set him up for this opportunity."