Jefferson Hagen
MacEwan Athletics
EDMONTON – Spending 26 minutes in the penalty box, the MacEwan Griffins men's hockey allowed four powerplay goals against in a 7-3 loss to the Regina Cougars on Saturday afternoon.
If you're keeping track at home, that's seven goals against their penalty killing units in a two-game weekend set to open the Canada West regular season, following a 7-5 win over Regina on Friday night.
The total is unofficially nine, considering the Cougars scored two goals on the weekend – including one on Saturday – that were within seconds of their man advantage ending.
"I'm in charge of our penalty kill," said interim head coach Zack Dailey. "It wasn't good enough. I'm going to definitely be spending a lot of time looking at some video, trying to figure out a way to right the ship. It's letting us down right now and it's losing us games. It's something we need to get better at."
In a completely flipped script from Friday when the Griffins established dominance in the contest by opening up a 5-2 second-period lead, it was the Cougars using the middle frame to take control of the game.
In a span of less than six minutes, they netted four goals from four different scorers – Brady Pouteau, Matt Culling, Michael Eskra and Kolton Shindle – to chase Griffins starter Ashton Abel, who has previously been imperviable in the contest, stopping his first 15 shots.
Rookie Brendan Boyle gave the Griffins a ray of hope in the final minute of the second period when he split the D and went in alone on Regina's Adam Evanoff, beating him with a high shot that tipped off his glove and in for his first U SPORTS goal.
The Griffins fed off that momentum in the third period as Neithan Salame's power-play point shot was tipped on net by Zach Webb and Kole Gable potted the rebound just 2:25 in.
Just over two minutes later, Boyle scored his second of the game, tapping a loose puck past Evanoff after a scramble in tight.
"He's been really good for us all year," said Doyle of the Prince George Cougars and Okotoks Oilers product. "His energy is infectious. He leads the way in that category, so I'm happy to see him get rewarded for all the hard work he's been putting in."
Boyle gave credit to his teammates.
"I think my linemates were just helping me out a bunch – being strong on pucks in the corner, just close support there, so there were a few chances created off those," he said.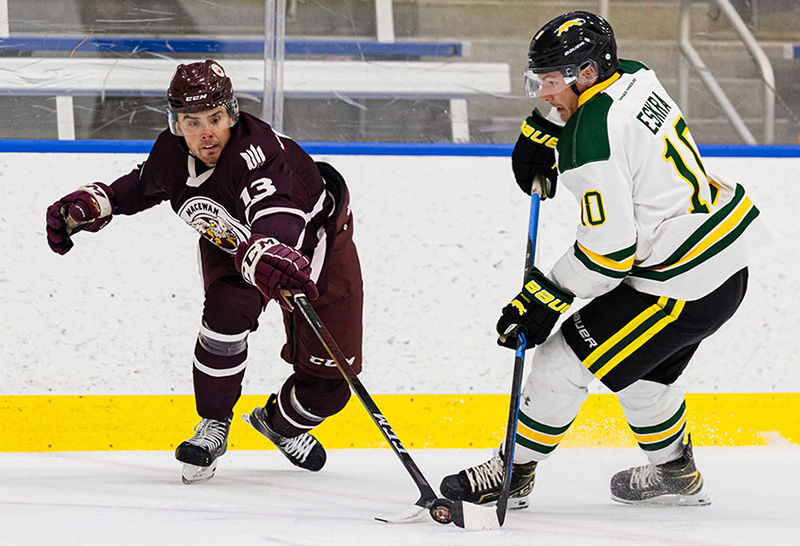 Loeden Schaufler gets a stick on a puck against Regina's Mike Eskra in Saturday's contest (Joel Kingston photo).
Unfortunately, the Griffins' improbable comeback was halted immediately. Pouteau scored his second of the game on the powerplay just 28 seconds later.
Regina never looked back after that as Scott Mickoski (a breakaway deke) and Thomas Heidt (snipe blocker side) beat Thomas Davis twice in a span of 22 seconds to ice the contest.
"It's definitely not the goalies' fault," said Dailey. "I think we let both of those guys down with our effort in front of them. I think we can still work on being in shot lanes, blocking shots. As a whole, we just need to be better. Everybody."
Davis finished with 17 saves on 20 shots, while Abel had 17 on 21. Evanoff stopped 35 of 38 for Regina, including robbing Salame on a breakaway and completely shutting down two late 5-on-3 opportunities the Griffins had.
"I think just penalty trouble killed the momentum," said Dailey. "We got into a special teams' battle, which were on the wrong side of. I thought five on five we did a pretty good job of pushing and trying to get back into the game. We just were not sharp, ready to execute on the powerplay and penalty kill."
That said, the Griffins have plenty to build on after a weekend split in their first two games. They have a home-and-home series vs. cross-town rival Alberta on Oct. 7-8.
"Obviously, we got our first win under our belts, so that's a big positive," said Boyle. "We're just going to keep building off that. We know we can compete. Just keeping moving forward and hopefully have a good weekend next weekend."