Jefferson Hagen
MacEwan Athletics
EDMONTON – For hockey purists, there is nothing quite like a defensive battle where the details matter the most and scoring is simply icing on the cake.
In that regard, the MacEwan Griffins women's hockey team executed a nearly-flawless 60 minutes of some of the most doggedly determined defensive hockey you'll see, stymying the visiting Manitoba Bisons in a 2-1 victory on Saturday afternoon at the Downtown Community Arena.
Give us all the coach-speak on this one: they were in lanes, they took away time and space, they had relentless puck pursuit … they had a will and a way.
"It's always been a focus for the Griffs and they executed very well on our defensive plan tonight," said MacEwan head coach Lindsay McAlpine. "Credit to the group in there."
With the win, the Griffins (6-8-0) salvaged a weekend split against the Bisons (9-5-0) and moved back into a playoff position, at least until Regina and Saskatchewan tangled later on Saturday.
"We knew we fell out yesterday and our goal was to come in and get a win," said Griffins goaltender Brianna Sank, who made 31 saves in the win.
Sank had to be at her best in the final minute when she gloved a dangerous tip off a point shot, shutting down the potential tying goal.
"I saw it coming from the point and I saw a girl deflect it, so I just got it at the last second and luckily it went in my glove," she said.
Thrust into the net for both games with Griffins' starter Natalie Bender sidelined with an illness, Sank came up big for MacEwan, including a breakaway stop on Manitoba's Camille Enns in the final minute of the second period.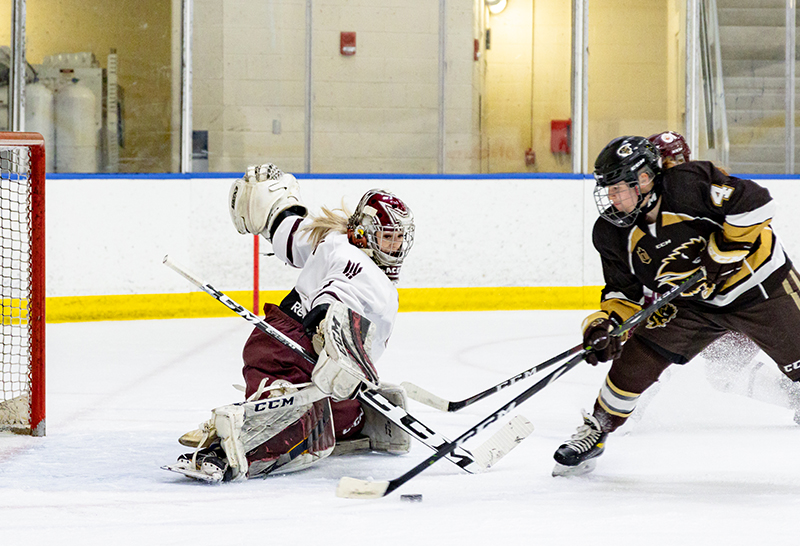 Brianna Sank stops Manitoba's Camille Enns on a late second period breakaway on Saturday (Joel Kingston photo).
"This is the first time she's played back to back games for us this season and she played it very well," said McAlpine. "I thought she played an outstanding game for us and made some critical saves late in the game when we needed them."
A scoreless draw for most of the contest, the Griffins finally broke the ice with nine minutes left to play when Sydney Hughson took a pass from Jayme Doyle in tight and roofed it past Bisons goaltender Meagan Relf.
Manitoba answered back with 6:21 left as a clearing pass bounced off a Griffins forward, allowing the puck to stay in the MacEwan zone where it was scooped up by Madison Cole and sifted five-hole on Sank.
But the Griffins were undeterred, scoring again just 1:37 later to put the game away. On a delayed penalty call, Kyrelle Skoye sent a cross-seam pass to Rebecca Thiessen, who shot it off Relf's pad and Hailey Maurice buried the rebound.
"Goals for us are big at the best of times, so to be able to get that late goal in the third period, have them answer right back and for our group to rally and respond again is huge," said McAlpine. "To beat a third-place Manitoba team, I'm really proud of the group today."
Hailey Maurice celebrates after scoring the game-winner off a rebound late in the third period on Saturday (Joel Kingston photo).
Both teams were solid on the penalty kill – MacEwan killed off six and Manitoba five – but it was the Griffins' ability to bounce back and get a clutch goal late that was the difference.
"I think that resiliency in our group has grown throughout the year and you can see they're getting used to the league and used to the pace," said McAlpine. "Every weekend's new for us, playing a different team. They took what they learned from yesterday's game – not our best effort – and I thought brought their A game tonight."
Next up for the Griffins is a road trip to Saskatchewan on Feb. 4-5, while Manitoba returns home to host Trinity Western on Jan. 21-22.