MacEwan Athletics
EDMONTON – Men's volleyball student-athlete Carsten Bergeron is the MacEwan Athletics' first star of the week after recording the best game by a Griffins middle in three years last Saturday.
Bergeron led MacEwan with 13 kills and broke the program's rookie Canada West record for hitting efficiency in a single match (.500).
Hayley Lalor of women's basketball and Natalie Bender of women's hockey were named the second and third stars, respectively.
It's Bergeron's second appearance of the season on the Three Stars list, following a third star nod on Jan. 25.
Lalor also cracks the top three for the second time in 2021-22 after previously earning second star honours on Feb. 8, while Bender has previously been recognized as third star on Nov. 2 and second star on Sept. 14.
1st STAR: Carsten Bergeron, MB, men's volleyball
Clyde, AB, first-year, Science
The rookie middle blocker had a standout weekend for the Griffins men's volleyball team on the road at Mount Royal University.
Bergeron's team-leading 13 kills in Saturday's 3-1 loss to MRU was the best performance by a Griffins middle blocker since Max Vriend on Feb. 15, 2019.
His .500 hitting efficiency in the match tied for fifth-best in MacEwan's Canada West history and broke the program's rookie mark for the stat, previously established by Olamide Ajayi during the 2019-20 campaign.
Bergeron also added four blocks in the contest.
In Friday's 3-1 loss to MRU, he was also one of the team's top players with seven kills and seven blocks – the latter tying for ninth best in program history.
For the season, Bergeron leads the Griffins in blocks (31) and is fourth in kills (61).
He leads MacEwan into its final action of the Canada West regular season this weekend as the Griffins host Calgary on Friday (7:30 p.m.) and Saturday (6:30 p.m., both David Atkinson Gym, Canada West TV presented by Co-op).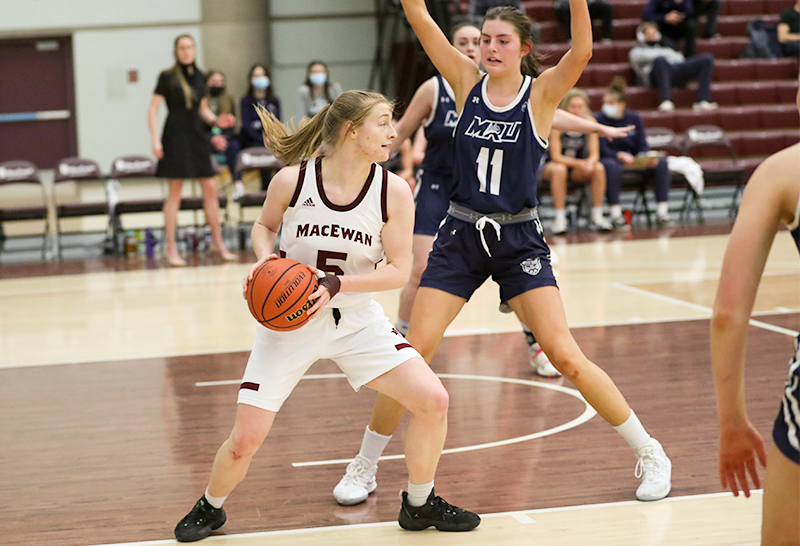 Hayley Lalor posted back-to-back 15-point nights for the Griffins during a weekend split vs. Mount Royal University (Eduardo Perez photo).
2nd STAR: Hayley Lalor, G, women's basketball
Red Deer, AB, third-year, Science
The third-year guard continued her strong play in February, leading the Griffins to a weekend split against Mount Royal University with 30 combined points over the two matches.
In Friday's 75-71 loss to the Cougars, Lalor recorded 15 points, seven rebouns, three assists and two steals in 33 minutes on the court.
In Saturday's 77-69 win – the Griffins' final regular season home game of 2021-22 – she was even better, again scoring 15 points and adding seven steals, five rebounds and two assists in 35 minutes. Her steals total tied with five others for the second-most in a game by a Griffin since the program joined Canada West in 2014.
Beyond the numbers, Lalor also stepped up big-time defensively for MacEwan.
For the season, Lalor is fourth on the Griffins in points per game (7.5), third in rebounds (5.1), tops in steals (2.2) and tied for first in assists (2.3).
Lalor and the Griffins are off to the first round of the Canada West playoff tournament on March 4 against a yet-to-be-determined opponent.
Natalie Bender stopped 40 of 42 shots against U SPORTS No. 2 Mount Royal University in the Griffins' final game of the 2021-22 season last Saturday (Joel Kingston photo).
3rd STAR: Natalie Bender, G, women's hockey
St. Albert, AB, fourth-year, Commerce
Bender saved one of her best performances for her last on Saturday.
In the final game of her illustrious university career, the Griffins' graduating senior goaltender stopped 40 of 42 shots as MacEwan nearly pulled off an upset over U SPORTS No. 2 Mount Royal University.
They lost 2-1, but played their best game of 2021-22 in the finale of their inaugural Canada West campaign.
Bender, who leaves as the program's career regular season shutouts leader (12), finished her only Canada West season with a 2.67 goals against average (10th in CW) and .922 save percentage (eighth). Her 389 saves was third-most in the conference, behind two goalies who played more minutes.