MacEwan Athletics
EDMONTON – Women's basketball student-athlete Noelle Kilbreath is the MacEwan Athletics' first star of the week after posting the first double double of her career on Friday night.
In Friday's 87-66 loss to cross-town rival Alberta, Kilbreath had a game-high 25 points and 11 rebounds in 33 minutes of action on the court.
Women's hockey student-athlete Brianna Sank and men's basketball's Damilola Osuma were named the second and third stars of the week, respectively.
It's the third appearance of the season for Kilbreath, who was also named first star on Nov. 16 and second star on Oct. 5.
Both Sank and Osuma are appearing on the MacEwan three stars list for the first time in 2021-22.
1st STAR: Noelle Kilbreath, G, women's basketball
Calgary, AB, second-year, Science
The Griffins started Friday's home game vs. Alberta with just nine players due to injuries and finished it with only seven healthy bodies.
One of those was Kilbreath, though, who took matters into her own hands with a short bench, scoring 25 points and adding 11 rebounds in a marathon 33 minutes on the floor in MacEwan's 87-66 loss.
It was, perhaps, the finest performance to date by the budding star, who was forced to hustle for more rebounds than usual due to the fact MacEwan was missing three of their four tallest players in the contest.
Saturday's match between the teams was postponed due to MacEwan having less than the required number (8) of healthy bodies in order to compete safely in Canada West.
For the season, Kilbreath is averaging 15.0 points per game to pace the Griffins, which is the 15th-best mark in Canada West.
The Griffins women's basketball team has some time to get healthy as they hit a bye week before returning to action on the road in Calgary Jan. 28-29.
Brianna Sank was solid in back-to-back games against Manitoba on the weekend, helping MacEwan earn a split in the series (Joel Kingston photo).
2nd STAR: Brianna Sank, G, women's hockey
Ardrossan, AB, second-year, Commerce
Starting back-to-back games for the first time since joining Canada West, Sank came up big for the Griffins against Manitoba to deliver a weekend split.
The St. Albert Slash product's finest performance of the weekend came in Saturday's 2-1 win where she made 31 saves, including a breakaway stop and a beautiful glove save off a tip in the final minute.
Sank also recorded 23 saves in Friday's 3-0 loss to the Bisons.
For the season, the 2019-20 ACAC goaltender of the year has a 2.69 goals against average, .913 save percentage and a shutout in seven games.
The Griffins women's hockey team now heads into a lengthy bye period before returning to action Feb. 4-5 with a visit to Saskatchewan.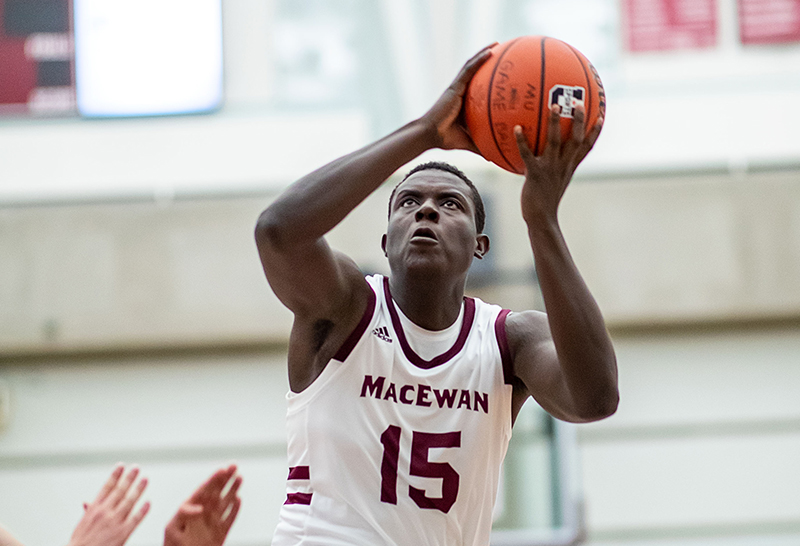 Damilola Osuma led the Griffins with a game-high 18 points on Saturday vs. Alberta, adding in strong defence (Eduardo Perez photo).
3rd STAR: Damilola Osuma, F, men's basketball
Calgary, AB, first-year, Arts
Seeing the most action of his Canada West career so far, rookie forward Osuma came through offensively and defensively for the Griffins in a pair of home games vs. cross-town rival Alberta.
In Saturday's 96-69 loss to the Golden Bears, he produced a game-high 18 points, seven rebounds and three blocks, while leading the Griffins defensively in 23 minutes on the court.
Osuma added four points and four rebounds in 21 minutes of Friday's 105-61 defeat to Alberta.
Head coach Mike Connolly cited his strong defensive play and leadership as the catalyst to everything else that worked in his favour on the court.
For the season, Osuma is 5.6 points and 3.4 rebounds per game.
The Griffins men's basketball team has a bye weekend before visiting Calgary on Jan. 28-29.