Jefferson Hagen, MacEwan Athletics
CAPE BRETON, N.S. – When at her best, Erin Van Dolder is the anchor point in the middle of the pitch by which all the stars revolve around.
That's a compliment to the work the holding midfielder does as one of the most unsung players on the MacEwan Griffins women's soccer team.
"It's what I try to do – get on the ball as much as I can and organize people around me," she said. "I feel like it's obvious when I'm having an off day because it affects everyone around you. You're just central, you connect passes and communicate with everyone, so having a strong personality and a lot of energy in that role, I think helps the team a lot."
Critical to the team's success on both sides of the ball, Van Dolder is logging 90-minute performances, often without fanfare or glamour stats, but there's a reason why she rarely comes off the field.
"Erin's been an unsung hero for us," said Griffins head coach Dean Cordeiro. "She doesn't often get the recognition she deserves because she's doing all the little things that set up her teammates.
"Often times, she's getting a lot of second assists and we don't track that statistic. So much of our success comes from her great vision and ability to distribute."
Van Dolder will lead the Griffins into a U SPORTS championship semifinal match against UBC on Saturday at Cape Breton University (8 a.m. MT WATCH HERE). The winner will play for gold on Sunday (11 a.m. MT) against the victor of Trinity Western and Laval, who are meeting in the other semifinal.
"Erin's a special talent and such a leader out there," said Cordeiro. "Having her in that pivotal role gives us so much flexibility. She's very offensive-minded, so she has the ability to jump into the attack to make things happen. She's so sound defensively, tough to beat 1 v 1, she wins everything in the air and puts her body on the line any chance she gets to stick a tackle or block a shot.
"I can't say enough good things about her. She's been the pulse of the team in midfield and really gets things going for us."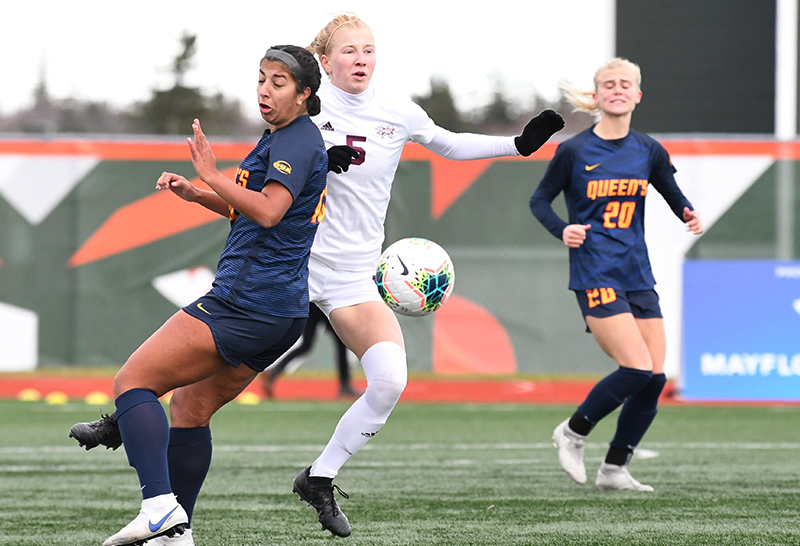 Erin Van Dolder battles for a ball against Queen's in their U SPORTS quarter-final match on Thursday at Cape Breton University (Vaughn Merchant photo).
A transfer from Houston's Rice University where she played 587 career minutes of NCAA Div. 1 soccer, Van Dolder was a late recruit to the Griffins' 2021 roster, committing right before training camp. They couldn't be happier that she made that choice.
"We were fortunate to add such an important player so late in the recruiting season," said Cordeiro, who coached Van Dolder with the St. Albert Impact all summer, along with several of her soon-to-be Griffins teammates. "This came down literally in the summer, so it wasn't expected, but what an incredible surprise.
"Erin's a national championship winner. She won that competition in youth with (Edmonton) Inter. Players who have been there, done that really help at a stage like the U SPORTS national championship."
Van Dolder was teammates with current Griffins Salma Kamel and Bianca Castillo on Internazionale's 2016 U18 Tier 1 national champion. She sees similarities from that team to this one.
"For me, there are very few teams that can get to that (nationals) level and be consistent at a tournament like this," she said. "It's a lot of mental strength and I think having teams like the MacEwan team is becoming and how our Inter youth team was, too, is you just play so hard for each other. That makes a difference to get through three games."
Van Dolder also has championship experience from the NCAA when she helped Rice University get into the national tournament in her freshman season and was also on the Owls in 2019, albeit dealing with an injury, when they made it to the Sweet Sixteen.
She also came into the Griffins as a UWS All West Conference second team all-star – a nice honour from the semi-pro loop and proof of her high-level play.
"This is a player who scored some big goals there and was huge in everything we did in both the defending and offensive phases," said Cordeiro. "The experience she brings to the table is really second to none for a player her age. She's accomplished so much."
The Griffins are already at the furthest point they've been since joining U SPORTS in 2014 and have a chance to make more history this weekend.
To get to the national championship game, though, they must first get past the UBC Thunderbirds in what will be a rematch of the Canada West semifinal.
UBC won 2-0 on Nov. 5, but the score was much closer than that. In fact, it could have gone either way between two evenly-matched squads who were locked in a scoreless draw until the T-Birds netted the winner off a rebound in the 87th minute and added an insurance marker shortly after with MacEwan desperately pressing for the equalizer.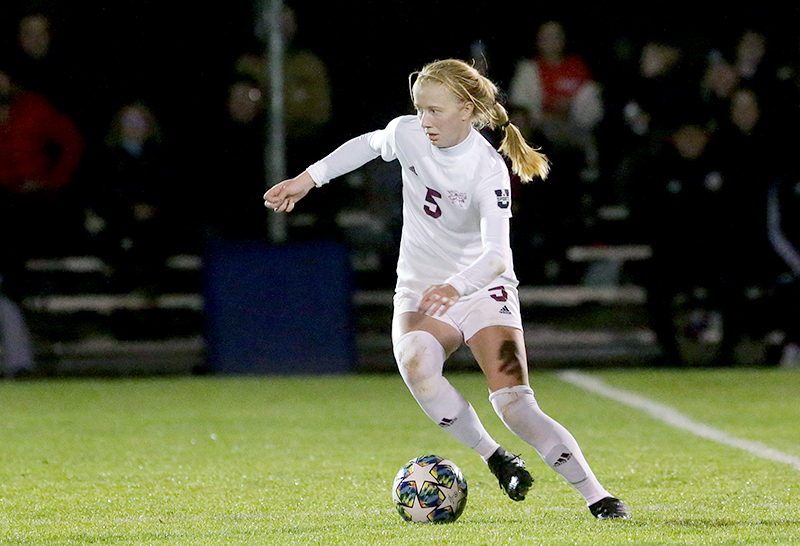 Erin Van Dolder, seen in action against UBC in a Nov. 5 Canada West semifinal game, is looking to lead the Griffins past the Thunderbirds in Saturday's rematch on the U SPORTS stage (Scott Stewart photo).
"I think rematches are always a bit of a mental thing," said Van Dolder. "Especially at nationals, any game is a mental challenge to get the nerves under control so you can play your best soccer. I think it's nice to know how we can play against this team."
For Cordeiro, the key is preparing just like they do for any other game.
"That's been our MO all season long – the most important game is the one that's in front of you," he said. "We know it's going to be steep competition. The nice thing is we're not too far removed from playing them in a game where we liked our performance. We get that opportunity at redemption.
"We're 90 minutes away from playing for a national championship. We will be ready."