Jefferson Hagen, MacEwan Athletics
-With files from U SPORTS
CAPE BRETON, N.S. – Redemptive, impressive and historic, the MacEwan Griffins women's soccer team left everything on the pitch in a 1-0 overtime win over UBC on Saturday that punched their ticket to a U SPORTS national championship final for the first time.
Fifth-year senior Meagan Lemoine headed in a corner kick five minutes into overtime to deliver the game-winner – redeeming herself after missing a glorious opportunity early in the first half – and allowing the Griffins to claim sweet revenge over a UBC team that beat them in a Canada West semifinal match 15 days ago.
"I missed a breakaway in the first half, so I felt I got a chance to redeem myself and do that for the team," said Lemoine. "It meant the whole world. It meant the whole season. We're finally getting what we deserve. We're working so hard and we're believing in ourselves. It's really showing."
Meagan Lemoine!!!! 1-0 @GriffinsSoccer #GriffNation https://t.co/t00O1NTZln

— MacEwan Griffins (@MacEwanGriffins) November 20, 2021
They're guaranteed to become the first-ever Griffins team to win a U SPORTS medal; the only question is what colour. MacEwan will go for gold in Sunday's national championship match against the winner of Trinity Western and Laval (11 a.m. MT WATCH HERE).
"We're guaranteed a better medal than what we finished in Canada West with," said Lemoine after the Griffins won bronze at the Canada West Final Four. "That speaks a lot to the team and how much we're growing."
The UBC Thunderbirds entered Saturday's contest as the defending U SPORTS champions and Canada West silver medalists, but the Griffins weren't intimidated at all, jumping all over them in a dominant first half.
Just past three minutes in, Salma Kamel's shot off a free kick rebound dribbled just wide of the right post. Then, in the 17th minute, off a corner kick from Lemoine, Kamel got her head and left foot on the ball, but UBC defenders were able to clear the zone.
But nothing compared to Raeghan McCarthy's chance in the 27th minute when, alone 10 yards out, she laced a left-footed volley, labelled for the top corner only to see UBC's 6-foot goalkeeper Emily Moore lay out to parry it over the crossbar.
Unlucky not to have a two- or even three-goal lead after 45 minutes with the wind at their backs, the Griffins had to weather some late storms by the T-Birds, including a game-saving diving stop by goalkeeper Breanna Truscott off a free kick from 30 yards out in the 90th minute.
"I was a little anxious, but I just have to be confident in myself and follow the ball," said Truscott, who finished with three saves. "With the wind, it was a little scary. But you've just got to follow the ball. I'm glad that I was there for it."
Salma Kamel had one of the Griffins' early glorious chances in a dominant first half (Jefferson Hagen photo).
Eventually, the Griffins took control in overtime and were full marks for the victory in a game where they outshot the T-Birds 12-9 (7-3 on goal) and controlled the lion's share of possession.
"In games like this, you don't know how many quality chances you're going to get," said Griffins head coach Dean Cordeiro. "We had three of them early on and none of them went our way.
"But Megs stepped up and scored a huge goal for this program. We keep talking every day that it's the next biggest goal in our program history. It's a nice feather in Meagan's cap, in her senior year to score a goal that she'll never forget."
On the winning goal, Erin Van Dolder's corner kick curled high right towards Moore at the near post. Lemoine followed Cordeiro's advice on the play and got in her kitchen. The ball came off her hands and there was Lemoine's head.
"Before the game, Dean made a huge emphasis on being in front of her and being a deterrent because she's very tall," said Lemoine, who is MacEwan's Canada West career goals leader. "Just get in her way. It fell to me and I just put it in the back of the net. I thought she had it, but I didn't stop and it was amazing."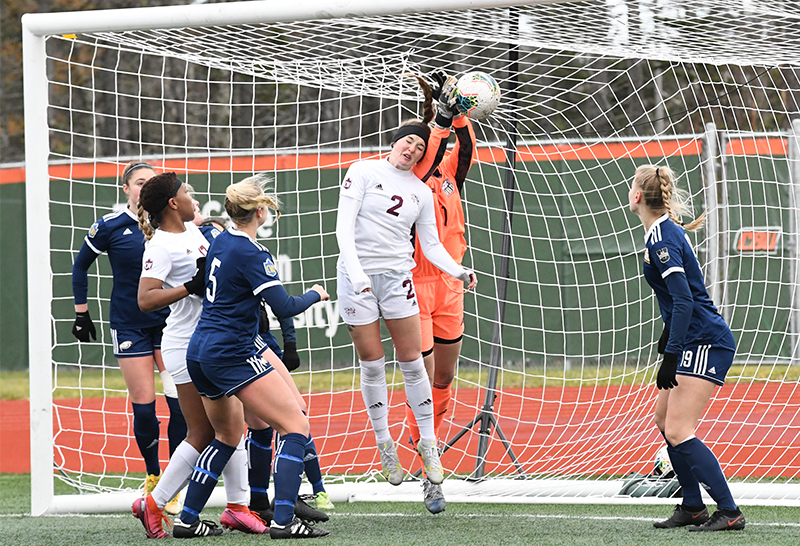 Meagan Lemoine gets a head on the ball to score the game-winner on Saturday past UBC goalkeeper Emily Moore on Saturday (Vaughn Merchant photo).
The win not only punches the Griffins' first ticket to a national final, as a footnote, it's their first-ever win over UBC – the last remaining Canada West team that they'd never beaten since joining the conference in 2014.
"I did not know that," said Lemoine. "There have been lots of big milestones this year and I'm super proud of us. It took every single player on and off the pitch to get to where we are."
Grace Mwasalla was named player of the game for the Griffins after wreaking havoc on UBC's defence all morning in an inspired 120-minute effort. But, as always, with this special MacEwan squad, the entire team made huge contributions across the board.
"We knew it wasn't going to be easy," said Cordeiro. "It was a fight out there. It was a battle for the 120 minutes and we're happy that we got the result we felt we deserved. We felt we deserved better in Canada West, quite frankly. It didn't come.
"Sometimes you're splitting hairs of these top teams and top programs playing against each other. But we knew today it was our turn. We were ready and we wanted it more and there was nothing that was going to stop us."
Griffins players celebrate wildly on the field after the final whistle (Jefferson Hagen photo).